MY GALAXY
Vessel amenities, itineraries & prices
Overview
Because you and your family deserve the best, your dream vacations are in the exciting Galapagos
Islands, where you can rest, relax and find entertainment in contact with the nature.
It will be a delight to enjoy the Enchanted Islands with our first class cruise: Galaxy Yacht.
The Galaxy Yacht has a Smart Voyager certification which means the implementation of new
practices for the Conservation of ecosystems, reduction of negative impacts caused by tourism
activity, reduction of the risk for introducing exotic species, waste management. The constant
training of our staff will provide you safety and a successful and unforgettable trip.
In the Galaxy Yacht, you and your family will enjoy comfortably from the terrace, the beautiful
landscapes of the Galapagos, while you take a sunbath or enjoy one of your favorite drinks.
At the bar you can enjoy a variety of drinks, cocktails and liquors, the barman will help you choose
the best list of drinks available on board and prices.
It also has a dining area, lounge, bar and a small library with numerous books to enjoy reading.
We have a variety of board games and videos for your family, be sure your children will be happy.
Other activities: Hiking, snorkeling, swimming, kayaking and animal observation. We offer free
diving equipment (mask, tube and fins) and kayaks to complete your adventure on the island.
We have special itineraries of 4, 5, 8 up to 15 days.
Cabins & Accommodation
Number of cabins: 18 passengers
ROOM AMENITIES
Private bathroom, cold or hot water
Air conditioning,
Hair dryer
Telephone for internal communication on board and a speaker
LOCK BOX: We have a lock box in each cabin for your valuable belongings; please do not hesitate to
use it or to ask any question about it to the crewmembers or your tour guide.
Deck Plan & Spec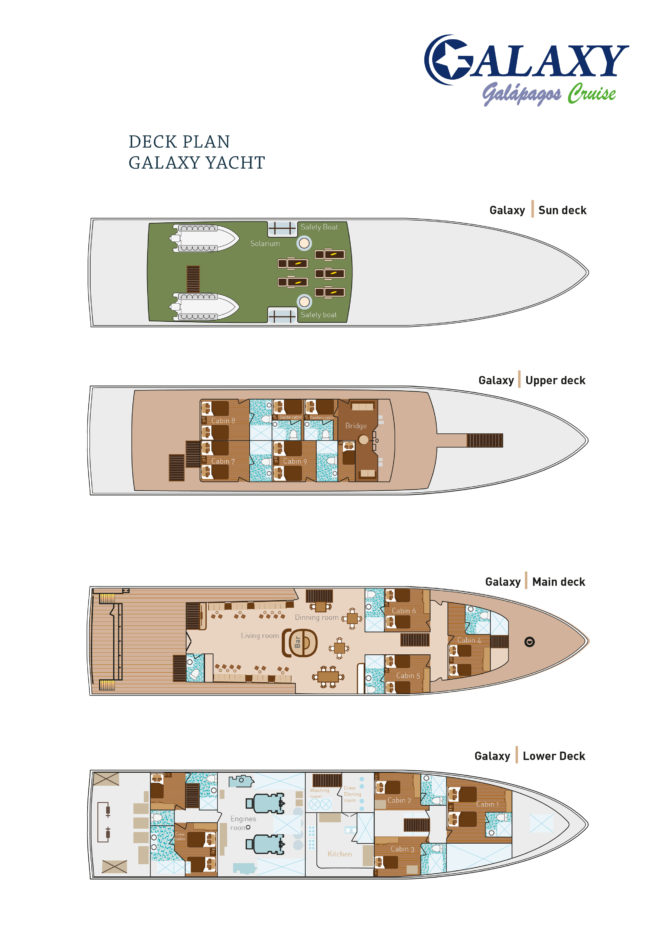 TECHNICAL SPECIFICATIONS
 Type: First class steel – hulled motor yacht
 Construction: Guayaquil 2006 – 2007
 Length: 35 m
 Beam: 7.60 m
 Draft: 1.80 m
 Capacity: 16 passengers
 Crew: 9 members + 1 bilingual guide
 Cruising speed: 12 knots
 Engines: 2 Caterpilar Motors 440 HP
 Water capacity: 4.000 gallons
 Diesel capacity: 6.000 gallons
 Electric power: 110V and 220V
Activities
Snorkeling
Kayak
Land / water excursions
Panga ride
ITINERARY
&

PRICES

MY Galaxy offers a cruise exploration from 4 – 15 days. Please contact us if you require a tour in between the duration days displayed below.
4 DAY CRUISE

Prices from

$

2049

pp




Price is based on 2 people sharing a cabin

Itinerary Highlights

Gardner Bay
Post Office Bay
Suarez Point
8 DAY CRUISE

Prices from

$

4778

pp

Price is based on 2 people sharing a cabin

Itinerary Highlights

Gardner Bay
South PLaza
Santa Fe
15 DAY CRUISE

Prices from

$

7925

pp




Price is based on 2 people sharing a cabin

Itinerary Highlights

Black Turtle Cove
Chineses Hat
Rabida
Let us help you…
Can't find the right itinerary or price? Let us know your date range and budget & we will try our best to accommodate your needs.