M/V INTEGRITY
Vessel amenities, itineraries & prices
Overview
YACHT DETAILS
Category: Luxury
Type: Small Yacht
Year built: 2005
Capacity: 16 passengers
A superb vessel in all aspects, Integrity offers a luxurious experience cruising the Galapagos. The 16 passenger yacht features huge windows in most of the staterooms allowing you to observe wildlife and scenery during the day and watch the stars at night whilst relaxing in bed.
With plenty of on-board entertainment you can indulge in Integrity's splendour & unwind in her top deck, and partially covered spa, screen your images on the wide-screen centre, tuck into a BBQ in the dining area or simply enjoy a beverage or snooze in the gentle breezes. There's plenty of space to switch off on your own or meet new people & take part in our social areas.
Cabins & Accommodation
7 doubles 150 sq. ft.
1 single 120 sq. ft.
1 Owner's suite 350 sq. ft.
CABIN AMENITIES
Entertainment center (CD/DVD)
Air conditioning
Telephone
Fully stocked refrigerator
En-suite bathroom
Large picture windows
Climate control options
Double Staterooms: Integrity has six 150 sq. ft. double staterooms that can be configured with either two twin beds or one king bed. Each is decorated with original paintings of Galápagos scenes. At night, soft overhead lighting and individual reading lamps create a soothing ambiance
Queen Stateroom: The Integrity has one queen-bedded stateroom, #9. It has all amenities including ample storage and seating, picture windows, entertainment center and private facilities
Single Stateroom: The Integrity has one single stateroom, #2, with two picture windows, writing table, entertainment center, mini-bar and private facilities.
The Owner's Suite: The King-bedded, 350 sq. ft. suite spans the Cabin Deck from port to starboard. Picture windows on both sides provide abundant natural light and unobstructed views of the Islands and wildlife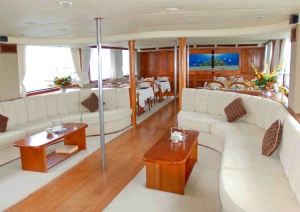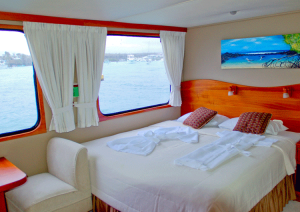 Deck Plan & Spec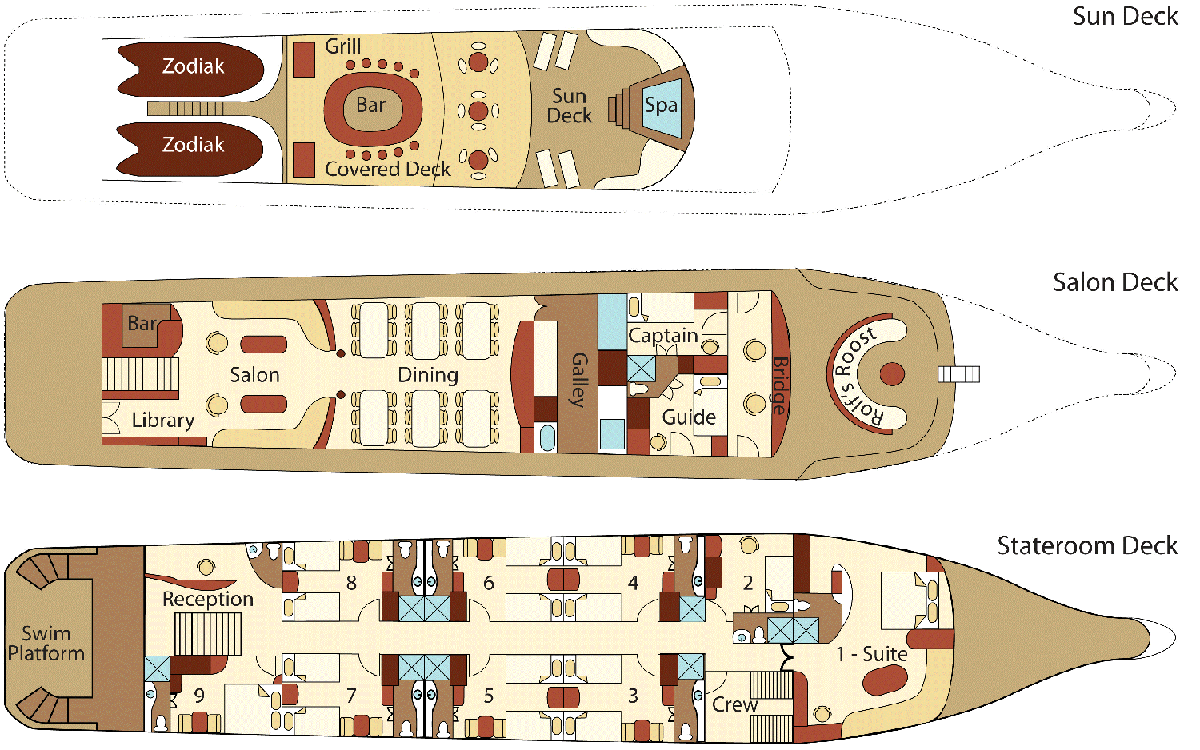 Integrity Deck Plan
Sun Deck
Full bar
Spa/jacuzzi
Barbeque
Salon Deck
Salon and dining area,
Bar
Entertainment center
Library
Cabin Deck
Boarding Platform
Reception area
Double Staterooms
Single Stateroom
King-bedded
suite
Yacht Specifications
Length: 141 feet
Beam: 24 feet
Draft: 7 feet
Tonnage: 318 tons
Stabilizers: Vosper Active
Fuel cap: 10,000 gal
Range: 3,000 miles
Desalinator: 2.500 gal/day
Guests: 16
Crew: 10
Naturalist: 1
Engine Specifications
Main engines: 2 Detroit – MTU Series 60, 4-cycle electronically controlled, set on Lo-Rez
mounts and shaft couplings for vibration control
Main generators: 2 Isuzu 96 kW 60 Hertz 120-240 Volts
Emergency generator: Kubota 12 kW 60 Hertz 120-240 Volts
Safety and Navigation
Life rafts: 2 – 25 person each
Zodiacs: 2 – 16 person each
Radar: 2
Sonar: 1
Depth Sounder: 1
DSC/VHF: 1
VHF: 1
DSC/HF radio: 1
Navtex: 1
Autopilot: 1
Closed circuit video surveillance in key areas
EPIRB (Emergency Position-Indicating Radio Beacon)
Smoke and fire detection and extinguisher systems
Crew (ISM certified)
Dimensions
Length: 141 feet / 44.3 meters
Beam: 24 feet / 7.5 meters
Draft: 7 feet / 2.2 meters
Tonnage: 318 tons
Range: 3,000 miles
Electric Power Supply: 110V & 220V (A/C)
Activities
ACTIVITIES
Scuba Diving
Snorkeling
Wake Boarding
Kite Surfing
Kayaking
Water Skiing
Land Excursions
Not fishing
Itineraries & Prices
Itinerary A – 8 days
In this cruise, you visit the western part of Galapagos with their pristine untouched quality, including
Isabella and the Island of Fernandina. A great mixture of Galapagos wildlife, in particular marine life, in
the form of Penguins, Flightless Cormorants, Marine Iguanas, Dolphins and whales. Fascinating
geological landscapes and excellent snorkelling.
Itinerary B – 8 days
In this cruise you will be visiting the central, northern and southern part of the Galapagos including an
excellent mixture of Galapagos wildlife, unspoiled white beaches and great snorkelling. Visiting a range
of islands including Genovesa and Espanola Islands, which not many yachts do in an 8 day trip, both are
truly spectacular islands teeming with seabirds.
Please Enquire for more details, dates & prices on the Integrity cruise. We can arrange the best deals at a personal level. 
Let us help you…
Can't find the right itinerary or price? Let us know your date range and budget & we will try our best to accommodate your needs.