ISABELLA II
Vessel amenities, itineraries & prices
Overview
To enjoy a dream vacation, we offer you and your family a comfortable and safe ship, the Isabela II yacht. The Galapagos Islands will leave you amazed and elated with their beauty, and you can enjoy these marvelous islands on board a large and beautiful yacht from which you can leave on excursions over land or in the vast ocean by kayak, snorkeling, or glass-bottomed boat.
The Isabela II yacht meets high standards of safety and comfort with an on-board capacity of 40 passengers. We have a variety of rest areas where you can enjoy enchanting scenery of the islands underneath our spacious  decks. Besides that, we have a whirlpool bath, a gym, and in our exterior deck you can enjoy food "al fresco" with a variety of drinks and sunbathing. Finally, you'll receive the services of our experienced crew. All of this will combine to give you the best vacation on the Enchanted Islands.
Cabins & Accommodation
20 comfortable double cabins accommodating 40 passengers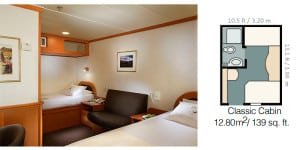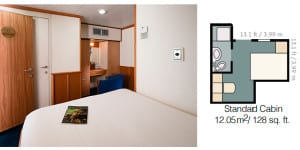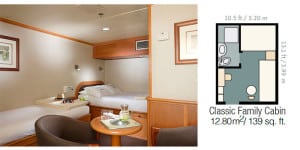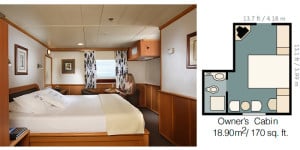 CABIN AMENITIES
Private Bathroom
Air conditioned
Safety boxes
Hair dryers
Deck Plan & Spec
YACHT DETAILS
Category: Tourist
Type: motor
Year built: 1979
Capacity: 40 passengers
Cabin Deck

Main Deck

Boat Deck

TECHNICAL SPECIFICATIONS
Construction: 1979
 Renovation: 2014
 Category: Deluxe
 Gross Tonnage: 1,025 tons.
 Type of Vessel: Expedition Yacht
 Capacity: 40 guests / 20 cabins
 Length: 55.94 m (183 ft)
 Beam: 11.58 m (38 ft)
 Speed: 10 knots
 Electricity: 110 – 220 V / 60 Hz
 Engines: 2 CUMMINS, KTA-38- M1, 1000 HP
 Navigation Equipment: Radar ARPA, Radar, Satellite Compass, Magnetic Compass,
Automatic Pilot, Echosonar, 2 GPS, AIS
 Fire Detector: Installed throughout the ship
 Life Jackets: In each cabin
 Lifeboats: 2 semi-enclosed units / capacity for 27 persons each
 Life Rafts: Two 25-man, one 20-man
 Owner: ETICA / Metropolitan Touring
 Decks: 3 (Boat deck, Cabin deck, Main deck)
 Naturalist Guides: 3 (includes Expedition Leader)
 Crew: 26
 Passenger/Crew Ratio: 3:2
 Medical Officer: Permanently on board
 Safety Certificates: SOLAS 74, ISM, ISPS, MARPOL
Activities
ACTIVITIES
Multimedia natural history lectures
Stargazing Programme
Glass bottom boat
Sea Kayaks
Snorkelling Equipment
Wet suits for snorkelling (available for rent)
ITINERARY
&

PRICES

Isabella II offers a cruise exploration from 5 – 7 days. Prices below are based on a standard cabin with 2 sharing. Please contact us if you require a tour in between the duration days displayed below & require a different cabin type or family room.
5 DAY CRUISE
MON/FRI

Prices from

$

3414

pp




Price is based on 2 people sharing a cabin

Itinerary Highlights

CENTRAL ISLANDS
5 DAY CRUISE
FRI/TUE

Prices from

$

3414

pp

Price is based on 2 people sharing a cabin

Itinerary Highlights

SOUTHERN ISLANDS
7 DAY CRUISE
TUE/MON

Prices from

$

5012

pp




Price is based on 2 people sharing a cabin

Itinerary Highlights

NORTHERN ISLANDS

Let us help you…
Can't find the right itinerary or price? Let us know your date range and budget & we will try our best to accommodate your needs.