Angelito
Vessel amenities, itineraries & prices
Overview
Recently refurbished in 2013, Angelito offers a fine, modernized touring experience for those travellers looking for a more affordable luxurious Galapagos experience. Angelito offers a superbly pleasant journey with air conditioning throughout the yacht in both private cabins and social areas including the kitchen, bridge & engine room.
Well known for it's impeccable onboard service, Angelito's friendly crew give excellent attention to your needs providing fantastic food & beverages througout the cruise with experienced guides to add to your adventure.
With 4 decks to stretch out across, there's plenty of space to relax. You can get lost in our library with wide range of books about the flora, fauna and history of Galapagos or catch some much needed rays on the sundeck or simply take in the beautiful Galpagos wildlife from the your large picture windows.
Cabins & Accommodation
Number of cabins: 8 double cabins on main deck
ROOM AMENITIES
Private bathroom
Air Conditioning
Toiletries
Room Towels
Beach towels
Hair Dryer
110v Electricity point in cabin
Safe Deposit Box

Deck Plan & Spec
Yacht Details
Category: Mid-Range/ Economic tourist
Type: Small yacht
Year Built: 1992
Capacity: 16 pasengers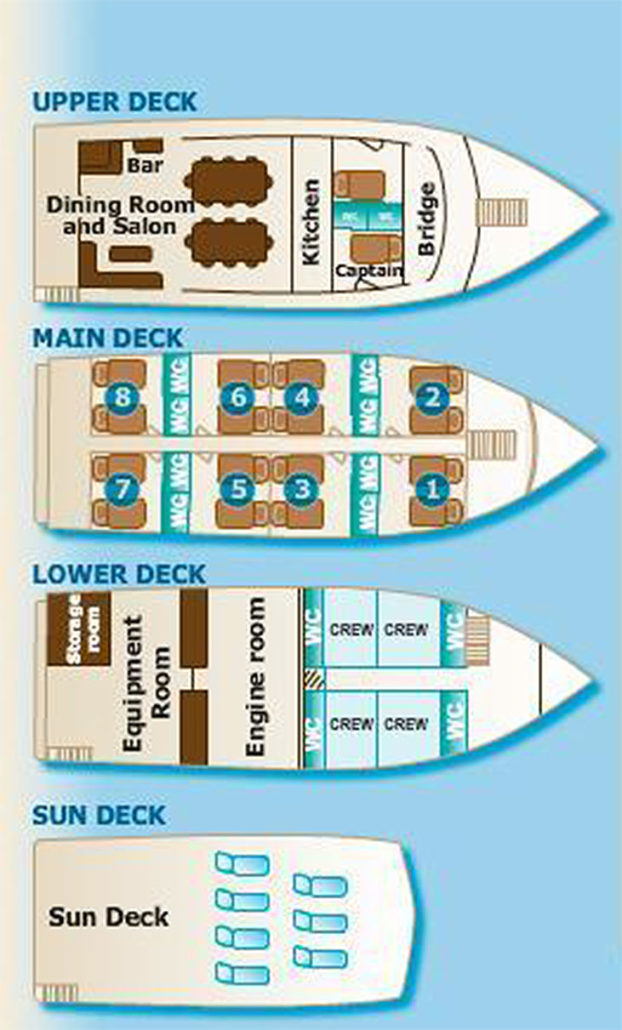 8 double cabins on main deck with, large picture window, private bathroom, individual air conditioning, safety box and hair dryer in each bathroom
4 Decks: sun deck, upper deck, main deck and lower deck
TECHNICAL INFORMATION
Custom motor yacht for 16 passengers. Mixed construction with wooden hull and fiber, built in 1992 in Galapagos and totally refurbished in Guayaquil in 2013.
Technical specifications:
Category: Tourist Superior
Gross Tonnage: 152
Capacity: 16 passengers/ 8 double cabins
Length: 22.3 m/70 ft
Beam: 6.6 m /22 ft
Speed: 12 knots
Engines: 2 new (2013) CUMMINS (Marine Diesel), 405 HP each and 2100 RPM (2013)
Generators: 2 new (2013) CUMMINS CPG (Diesel) with capacity of 65KW/60HZ each
PureVent FUEL CLEANER: a radical new approach! Cleans the gas vented from engine crankcases using a centrifugal separation technology to remove oil mist and other particles to protect the environment
Electricity: 110 Volts in the cabins and in the bathrooms and 220 Volt sockets available in the social area
Water: desalinization machine with capacity of 65 gallons of fresh water per hour
Navigation and Safety equipment:
2 GPS, Magnetic Compass, radar with range of 36 miles, echo-sounders
HUNTER: Satellite GPS Monitoring, with digital maps and a real time monitoring
Control of all strategic points of the boat like engine rooms with cameras and monitor on the bridge
Safety Classification: SOLAS 74 (safety of life at sea) ISM an ISPS – MARPOL
Fire and smoke detectors in each cabin and all other areas of the Yacht
Life Jackets: 2 life jackets SOLAS in each cabin and several more in different strategic points of the yacht
2 Life Rafts: one for 16 passengers and the second for 12
2 Zodiacs: capacity for 10 passenger each, with ecological Yamaha motors with 25 hp each and propeller protectors
Crew: 8 (captain, first mate (steersman), machinist, 2 sailors, cook and auxiliary cook & multilingual naturalist guide
Activities
ACTIVITIES
Scuba Diving
Jacuzzi
Shore wetsuits for hire available in all sizes
Snorkelling equipment including mask, snorkel & fins. Sizes 34 -45 (this is included in the cruise price)
ITINERARY
&

PRICES

Angelito offers a cruise exploration from 4 – 11 days. Please contact us if you require a tour in between the duration days displayed below.
5 DAY CRUISE

Prices from

$

2665

pp




Price is based on 2 people sharing a cabin

Itinerary Highlights

BARTOLOME
DARWIN BAY
PUERTO EGAS

8 DAY CRUISE

Prices from

$

3865

pp

Price is based on 2 people sharing a cabin

Itinerary Highlights

CORONA DEL DIABLO
PUNTA ESPINOZA
URBINA BAY

11 DAY CRUISE

Prices from

$

5300

pp




Price is based on 2 people sharing a cabin




Itinerary Highlights

PUNTA SUAREZ
PUNTA ESPINOZA
URBINA BAY

Let us help you…
Can't find the right itinerary or price? Let us know your date range and budget & we will try our best to accommodate your needs.